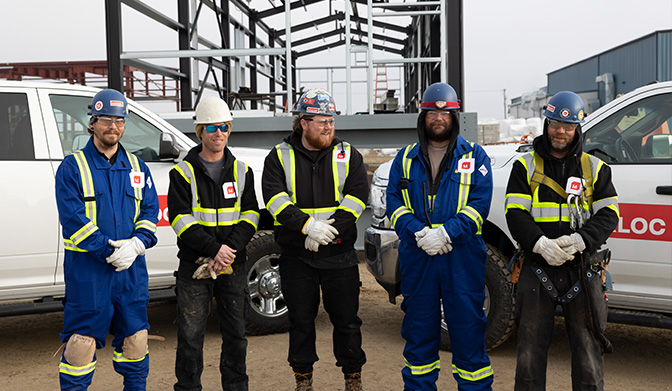 Makloc is committed to operating with the goal of achieving a "zero incident" work environment for all of our employees and subcontractors. Our goal is to build an ever-present, instinctual safety culture where everyone feels responsible for safety; and pursues it on a daily basis. We believe that all injuries are preventable and that by working together we can make safety a way of life. We approach safety as an evolution that started as compliance to standards and now exists as a cultural tool that protects the quality of life for our employees, subcontractors and the environment.
Commitment to Safety
Makloc is committed to providing a safe and healthy work environment for all of its employees and sub-contractors. This commitment is fulfilled through:
Teamwork
Enforcing accountability at all levels; including management and supervisors
Proactive safety through training and education
---
Diversity
Empowerment
Prioritizing safety above everything else
Focusing on prevention; a pre-emptive safety approach
Compliance
In order to best meet the requirements of our clients, we have attained various certifications that demonstrate our commitment to safety and quality. All of our maintenance and transport teams hold all major relevant tickets to work on site.
ISNetworld
CanQual
PICS
WCB
COR – Certificate of Recognition for Partners in Safety
CSA – A660 Certification
CWB Certified Weld Shop
ComplyWorks
ISO 9001 Compliant