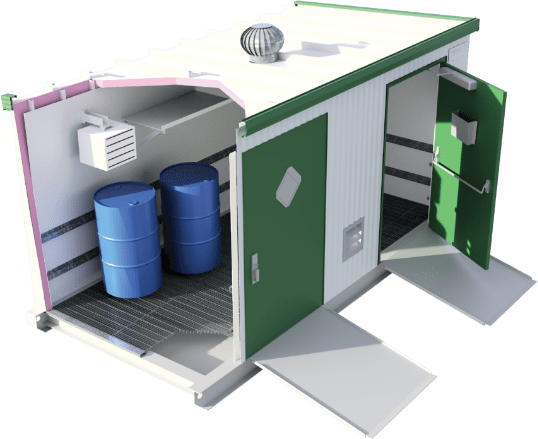 Chemical Storage Building Solutions
The design and production of environmentally safe storage buildings has been an important segment of Makloc, offering companies code compliant structures that protect people and the environment. These have been developed to the strictest standards of chemical and fire safety to control materials such as petroleum products, pesticides, acids, fertilizer and other combustible or harmful chemicals.
Chemloc buildings are designed to comply with all North American building codes as well as the NFPA Flammable and Combustible Liquids Code.
Trusted for over 50 years.
Makloc's Chemloc buildings have been a trusted product for the oil and gas industry for well over 50 years. Makloc can customize to accommodate any floor load, building size or sump capacity required for the job.

Standard Features


All of our buildings are constructed with non-combustible structural steel including the skid, and baked with polyurethane enamel. Heavy duty doors have panic hardware and non-removable pin hinges, protecting from unauthorized access. Various sizes are available for standard buildings ranging from 450 to 1410 cubic feet, with optional customization for specific needs. Our Chemloc buildings are manufactured at our Edmonton facility can be transported throughout Western Canada.


Optional Features

Makloc prides itself in offering custom products to our customers, adjusting the structure to best need specific industry requirements. Practically everything about the building itself can be altered, from colors and door sizes to explosion proofing and hoisting equipment. The goal is produce a functional structure that makes work easier and safer, so we have even implemented detection monitoring systems and safety items.


Diverse Application

With such a flexible and reliable platform, we have built and implemented our Chemloc buildings into many different industries. These rigid manufactured structures house petroleum products, hazardous chemicals, labs, explosives, agricultural products and industrial waste. By adding features such as shelving, ramps and utilities, these structures become functional work spaces as well, more than just a simple hazardous materials storage shed.