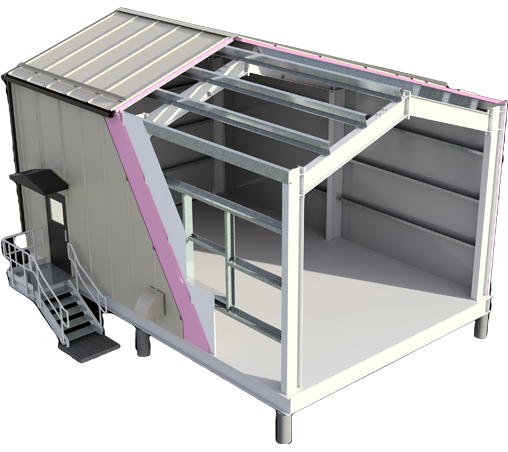 Rigid Frame Metal Building Solutions
Designed to be the perfect fit for larger modular or field constructed projects. Makloc Rigid Frame Buildings are collaboratively designed and built to exceptional standards through the use of industry-leading software, automation (including our Beam Master robotic welder), and our experienced team.
All Makloc Rigid Frame Buildings are certified to CSA-A660 as well as CSA-A277 upon request, come complete with engineer stamped drawings, and are compliant with the National Building Code of Canada.
Custom sizing and shape
The sizing and shape of the rigid frame can be adjusted to suit any custom project. Find out why engineers, packagers, and large energy companies trust Makloc to deliver industry-proven rigid frame buildings.

Brochures & Documentation


Material and Finishes

Makloc cladding and liner is made from pre-finished galvanized steel
G90 (Z275) Galvanized or AZ50 (AZM150) Aluminum-Zinc Alloy coating options
HDP Paint has a wide range of colour options


Building Components

Rigid Frame Structure, Structural Floor, Girts, Purlins, Makloc MC914 Cladding, Insulation, Makloc ML762 Sealed Liner, Weather Hood, Ice Rake, Eavestrough and Downspout, Door Canopy, Personnel Door, Platform & Stairs, Framed Wall Opening