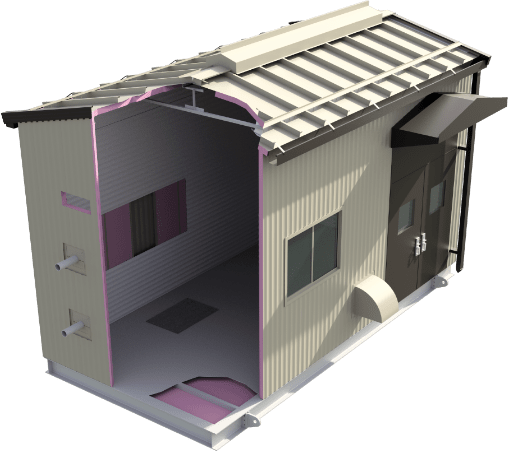 Self Frame Metal Building Solutions
Makloc's Self Frame Buildings are constructed with a dual-purpose interlocking ribbed panel system that serves as the primary structural support and pre-finished exterior cladding. Best suited for smaller applications, the cost effective design is a proven choice for a wide variety of applications.
All Makloc Self Frame buildings are certified CSA-A660 as well as CSA-A277 upon request, come complete with engineer stamped drawings, and are compliant with the National Building Code of Canada.
Applications
Storage
Field offices
Electrical enclosures
Instrumentation enclosures
Oil & Gas process equipment
Pump stations
Telecommunication buildings
Lab buildings
Generator enclosures
Compressor enclosures

Brochures & Charts


Standard Colours

Galvanized, Galvalume, Tan, Stone Grey, Bone White, White-White, Metro Brown, Mist Green, Surf White, Slate Blue, Sapphire Blue, Gold, Bright Red, Heron Blue, Forest Green, Melchers Green. Custom colours available upon request.


Building Components

Wall Panels, Roof Panels, Interior Wall Liners, Structural Steel Skid, Wall Openings, Sliding Windows, Weather Hoods, Personnel Doors, Removable Transoms, Door Canopies, Ice Rake, Ridge Vents, Eavestroughs, Downspouts, Insulation